We started our business in 1994 with 3 employees and focused on consumer systems and repairs. We rapidly expanded into IT support and are now the area's largest IT support firm. We now have 7 employees and expect to continue to grow and expand our service and capabilities in the coming years.
VALUE
If there is one word that defines our company, it would be value. Our goal is to provide products and services that have a value to our customers.
It's a simple equation:
QUALITY plus SERVICE plus PRICE equals VALUE.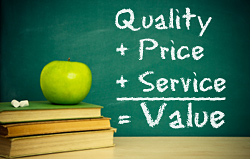 Our operating philosophy focuses on providing customer value


Our technical certifications include A+, CNA, CCNA, CNE (Certified Netware Engineer) and MCSE (Microsoft Certified Systems Engineer), allowing us to provide a very high level of professional support to our customers.

We are also allied with some of the biggest names in the computer industry:
Western Digital Select Partners.

Microsoft OEM System Builder.

Cisco Partner.

Microsoft Education Reseller.

IBM Authorized Reseller

Intel Partners
However, our most important resource is not our certifications or affiliations, but our employees.

We're proud of our people and the value they deliver to our customers every day.