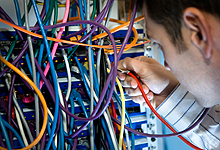 NETWORKS THAT WORK
PC Plus offers professional network design, installation and support. From concept stage to cable installation, we can design and install scaleable, robust networks to meet any needs and budget. We are experienced in both LAN and WAN environments and have the tools to provide connectivity for the most demanding client.
<![if !supportLineBreakNewLine]>
<![endif]>
CABLE INSTALLATIONS
Whether you need a new network installation or an addition to your existing network, we can install both category and 6 cable, backed up by certification test for each cable run.
NETWORK SECURITY
We recommend firewalls that provide the security you need in today's environment. These firewalls offer the ability to implement virus scanning, intrusion detection, spam filtering and secure 128 and 256 bit encrypted VPN tunneling into your network for remote users.
NETWORK SUPPORT
Our network support capabilities are second to none. With years of experience, our network team has the network management and monitoring tools to assure that your network will continue to function with a high level of performance and reliability.